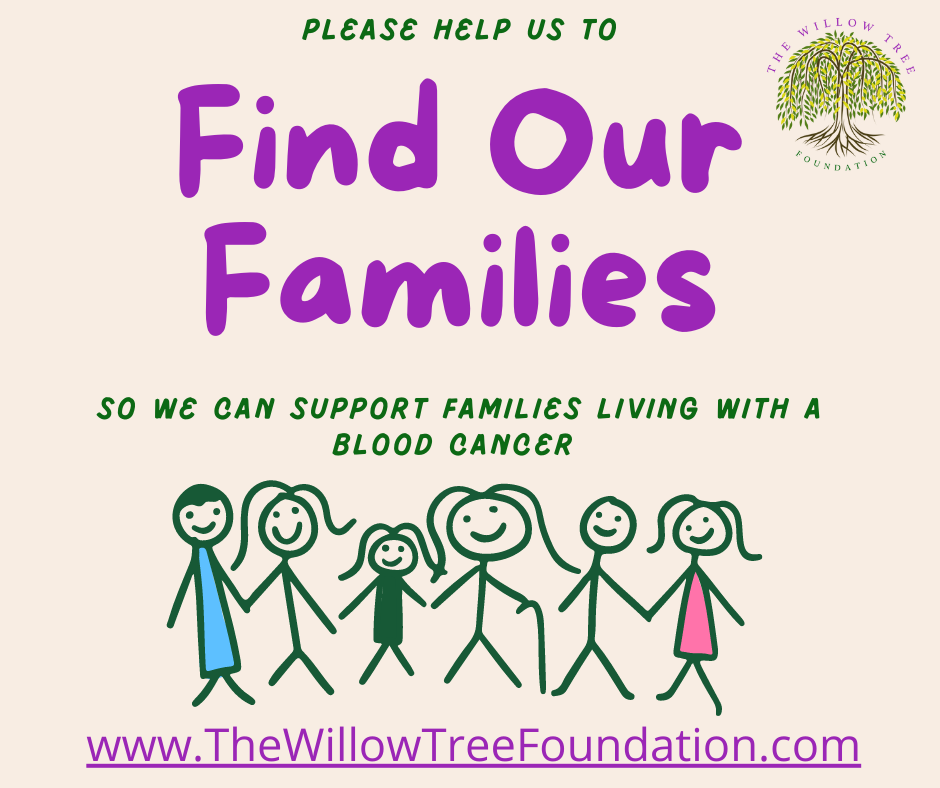 There are various types of grants that individuals & families can access:
Newly diagnosed with a blood cancer £5000 – most people have the wind knocked out of them when they first get diagnosed & receiving some financial aid can give you extra breathing space to get your head around planning your next steps
Drug, alternative treatment & surgery support £2500 – as some drugs aren't available on the NHS or your insurance company doesn't cover them
Creating a new future £2500– You might have created a lot of debt throughout your treatment & it's holding you back from making a new start
Additional expenses £500 – for parking, travel, childcare etc as it all adds up!
Our grants are exclusively available to those living within the London borough of Kingston Upon Thames.
If you meet our application criteria, please apply here and we will advise you when our next round of funding becomes available.
Meet Some Of The Families Who Have Received Grants
Nicola & Ethan Davies – Additional Expenses
Ethan was born prematurely and without working kidneys so had already undergone a kidney transplant prior to his unrelated blood cancer diagnosis.
Therefore, they had already suffered severe financial pressure due to him being in and out of hospital all his life. His treatment started in a hospital 50 miles away which aided the financial and emotional strain with one parent living away from home with him for several months.
Nicola & Tony Scotcher – Newly Diagnosed
Nicola's dad Tony was recently diagnosed at Christmas with Non-Hodgkins lymphoma at 61 years old.  Her mum & dad adopted twins Daisy and Bailey after fostering them since birth are 13. Bailey has special needs, mentally aged 6 with adhd, autism, klinefelters syndrome amongst many other things, and daisy has severe anxieties.  Both of her parents were on zero-hour contracts so weren't able to work & do not have any income coming in since diagnosis.
The Mole Family – Creating A New Future
Vicki, Conrad and their children; Ruby, Poppy, Max  & their cockapoo Winnie are very familiar with cancer as both Ruby and Conrad have had blood cancer, Ruby had leukaemia when she was 3 and had 3 years of chemo – She is now a healthy teenager!  Conrad was diagnosed with Mantle cell lymphoma 7 years ago (the week before they got married) he's had intensive chemo, a stem cell transplant and antibody medication.
Ruth Doolittle –  Alternative Treatment Support
She choose the alternative path as one of the drugs involved in traditional treatment has very serious implications on mental health; schizophrenia, suicidal thoughts, anxiety and depression, all of which she has struggled with.  The illness Ruth has also cannot be cut out, or shrunk, it is a lifelong condition and will require the drug cocktail treatment repeatedly throughout life. 
About Our GoFundMe Fundraising Campaign
This is where the foundation started – Richard needed to find £40,000 to fund a new drug called Obinuturzumab that increased the chances of mantle cell lymphoma remission by 15% – but it is not available on the NHS or via his private health insurance. When he reached the fundraising target in under a week, he knew that he wanted to support other families with blood cancer both financially and emotionally.  This is when The Willow Tree Foundation was born. We encourage people to share this link so that we continue to fund this foundation and support others along their journey.
Please read more about the fundraising campaign & donate here